Shimura Blurs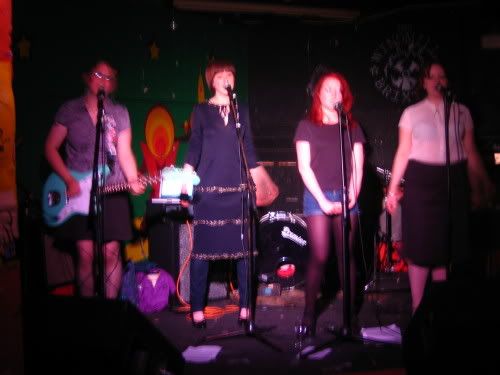 From left: Kate, Frances, Anna, Miss AMP
(Thanks to Rob Bolton for the photo!)
So apparently we sound like "
Sugababes meets Magnetic Fields
" according to The Lex.
Brainlove
said this, which is absolutely lovely:
Shimura Curves first gig comes sandwiched between forgettable boy-rock bands on a Sunday afternoon at the Windmill in Brixton, which makes them stand out even more than they would have anyway. They are four ladies who definitely know better, throwing caution to the four winds with a cheap programmed backing track and some brave 4-piece harmonies and attempted synchronised dancing. There are nervous sidewards glances from shiny eyes, in-joke lipglossed half-smiles, pretty outfits & semi-planned shimmies, genuine stiff-limbed nerves, 80's pop sensibility (think the cheap synth and squiffy harmonies of Bananarama), lyrics sheets rustling, and a singing-into-the-hairbrush approach to girl-band-ness. At the end of a song about Elephants, they all squeal in mock-fear, then laugh at the noise they just made. Who knows if there'll be more gigs like this? These ladies have nothing to prove really. Maybe that's why it comes off so well.
A couple of boys described it as "like being left alone in a girl's room and getting a mysterious feeling as you're looking through their makeup box" (I think. Not an exact quote but similar in sensibility).